Cary Catalano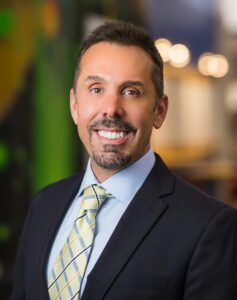 Born and raised in Fresno County, providing families with the necessary tools to be as successful as possible has always been at the fabric of Cary's community involvement and his daily work.
Since starting his firm nearly 20 years ago, Cary has grown his business from a two-person operation to a team of public/government affairs, marketing, and resource development firm serving numerous clients in industries throughout the Central Valley and the western United States.
With more than 23 years of experience in public and government affairs with a specialty in communications and organizational development, Cary has proven results in helping all industries he serves to reach their intended goals. Before establishing Catalano Fenske & Associates, Cary was the Chief Operating Officer of the Community Food Bank for four years. The Fresno Advertising Federation awarded him the prestigious JU Berry Award for his commitment to charity work in the community. He was recognized as one of the top 100 alumni from Fresno City College. Additionally, Cary served as the president of the corporate board of directors for Girls Scouts of Central California South in which he served for three years and oversaw a complete organizational restructure. Cary also served a commissioner on the City of Fresno Planning Commission from 2014 to 2017 in which the City adopted a new General Plan focused on community revitalization and lead the General Plan Review Committee giving the plan adopted in 2015 a complete review and recommended over 60 recommended changes. Cary was also appointed by then Mayor Lee Brand to served on Fresno Recovery Committee, an advisory panel formed in response to the COVID-19 pandemic to assist in the community's economic recovery without jeopardizing the health of residents.
Cary holds a BA in Public Administration from California State University, Fresno and an Associate's Degree from Fresno City College. He is also a graduate of Leadership Fresno. Cary currently serves as the Chair of the Fresno County Housing Authority Board of Commissioners, as well as the Board of Directors for the Fresno State Alumni Association and the Fresno Chamber of Commerce.
Cary's commitment to providing working families with quality housing, job opportunities, and a safe community has been at the cornerstone of his community work now and in the years to come.